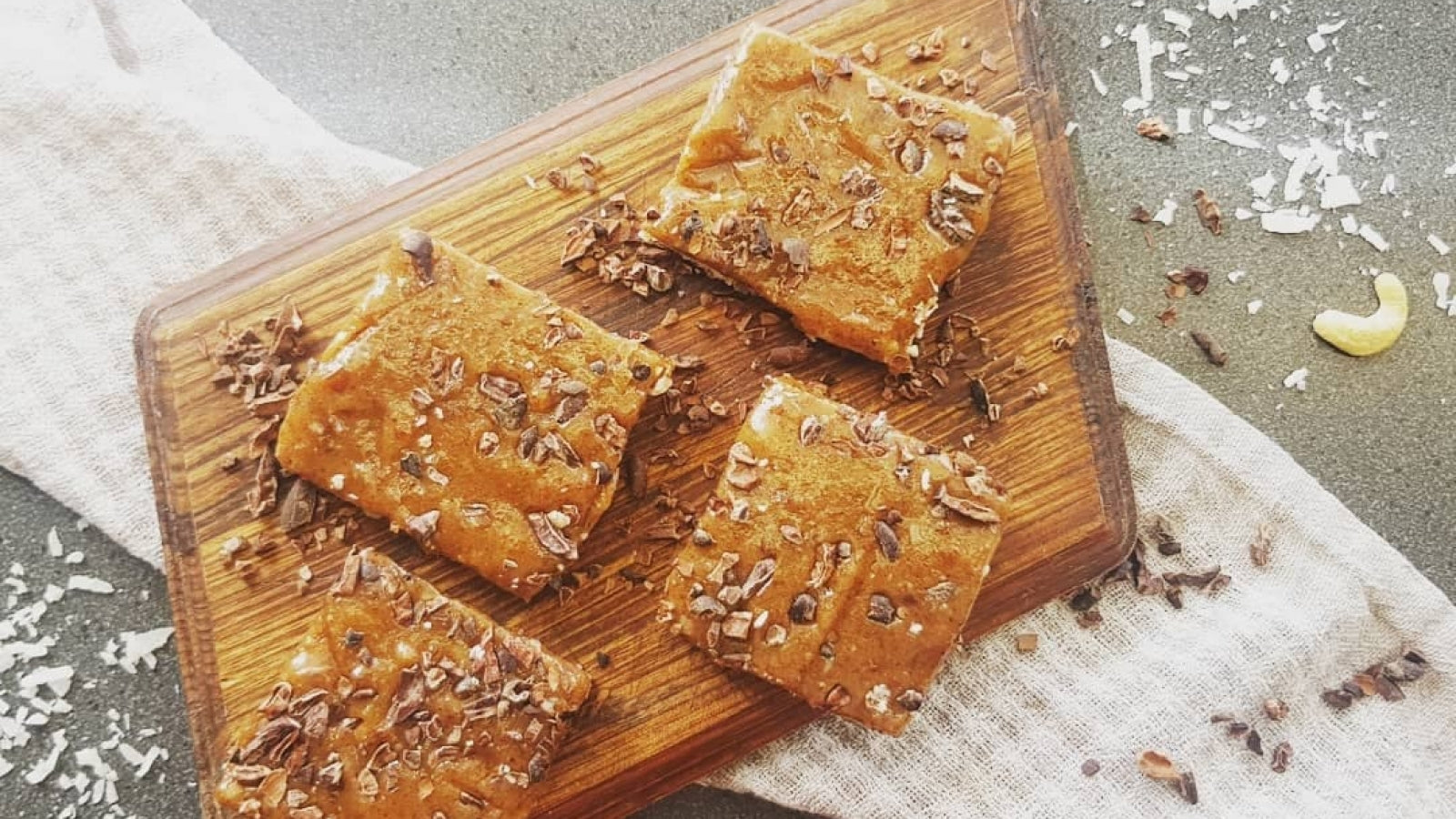 Salted Caramel slice
We why love this slice:
Chewy, gooey, delicious date and almond caramel melt in your mouth. Food-gasm.
High fiber, protein, and iron content in this (mostly) raw, plant-based slice!
Mushroom salted caramel? Yes please.
Base:
1 cup dessicated coconut
¾ cup sunflower seeds
¼ cup cashews or almonds
½ cup melted (or soft) coconut oil
1 Tbsp Flow State shrooms
Date Caramel:
150g pitted whole dried dates (medjool or deglet work fine!)
150g almond or peanut butter (we prefer almond, but both delicious!)
3 Tbsp maple syrup or brown rice syrup
½ tsp Himalayan or sea salt
3 tsp pure vanilla essence
What you'll need:
A decent high-power food processor
An 8X8 inch baking pan
Soak dates in hot water for 30-60 minutes, until soft.
Line baking pan with parchment paper, set aside.
In food processor, blend together sunflower seeds, nuts, coconut, coconut oil, and Flow State shrooms-using a spatula to clean down the sides.
Blend until smooth. Should hold together nicely when pressed between your fingers.
Spatula base out of food processor and press into lined baking pan.
Place base in freezer for 1-2 hours.
Drain water from dates, blend until smooth-using a spatula to clean down the sides.
Add nut butter, sweetener of choice, salt, and vanilla. Blend until smooth
This caramel should be very sticky!
Spatula out of food processor onto frozen base.
Keep a cup of hot water for your spoon to help spreading caramel onto base.
Spread until smooth (be patient).
Sprinkle with more salt, cacao nibs, hemp seeds, or all 3!
Freeze until caramel is firm.
Cut into 16 squares, and store in container in freezer for up to 1 month.