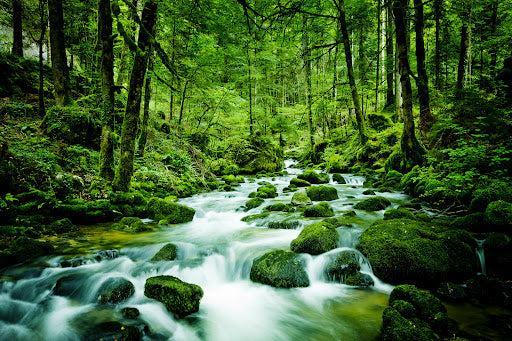 The Flow on Effect
Kia ora beautiful humans!
We are well into the warmer months of summer in Aotearoa and making the most of each day- staying present, with intentional steadiness, and moving at the pace of life. The gardens, the trees, and the tides guide the daily rhythm of our lives, and it feels almost radical to enjoy every moment this life presents as a blessing. 
As we enter the season of giving, Dave and I have felt deeply into how we want to intentionally navigate this economically driven cultural holiday. We aren't super down with mindless consumerism, but also respect and understand the psychological drive to shop- for self and others, in the worldwide culture of consumerism. 
When we dig into what's at the heart of this social tendency- inherently it is kindness. It is the shared humanity in all of us that desires to give and care for ourselves and for others. While it may be sometimes convoluted in the era of mass production, globalization, and consumerism- there is a beautiful spark of love and generosity at its core. 
We also find ourselves feeling incredibly grateful. Growing this business and the community of incredible humans who support us in countless ways warms our hearts. We felt motivated to give from this overflow and spread the abundance that we feel every day in our hearts and lives. 
So here we are- finding ourselves in this moment of participating in 'Black Friday' sales, offering your favourite NZ owned and operated organic mushroom extracts with a sweet sale to keep some extra dollars in your wallets leading up to the holidays. 
But, we're not stopping there. 
Amidst the noise of mass consumption and holiday bargains, we are launching two new initiatives that are near and dear to our hearts- "The Flow on Effect", and an ongoing partnership with Drinkable Rivers. 
Staring December 1st, we will be donating $500.00 each month to an Aotearoa-based non-profit organization who are creating positive social change in the worlds of community development and sustainability. There has never been a more important time to support innovative and collaborative people-led efforts to make the world a more beautiful and supportive place. 
We want to include you, our epic mushroom-loving community in helping us uncover bad-ass non-profit organisations that inspire you by the work they do. We will be spreading our net on social media looking for your recommendations, as it's only thanks to your support that we're able to launch this initiative. Keep your eyes peeled on Instagram for our call out for suggestions! We cannot wait to hear from you and to learn more about the environmental and community-based efforts that get you excited! 
As we move forward, we'll be sharing the work of these epic organizations on social media and on the blog! By doing so, we hope to raise greater social awareness and help lift the voice and vision of some of Aotearoa's change makers. 
For our first donation, we are partnering up with Camp Oasis. 
Camp Oasis is a youth organisation based in Auckland, and their mission is to provide a safe, fun, loving, nurturing environment for young people. They aim to empower rangatahi whilst also learning new and exciting life skills and attributes to lead a positive healthy life. Here's a link so you can read more about this amazing organisation!

Drinkable Rivers
The human impact on the natural world is irrefutably devastating in so many ways. We have lost connection with ancestral ways of living in harmony with the land, and respecting her resources as vital interconnected life sources with our very selves- as extensions of the Earth. At Flow State, we are deeply passionate about slow living, reconnecting with simpler ways of being, and restoring harmony to this beautiful planet we are so blessed to call home. 
Drinkable Rivers is an NZ-based organization with the vision to "Restore Aotearoa New Zealand's greatest assets to their natural balance and beauty". They are literally cleaning up New Zealand's rivers of invasive flora, industrial chemicals, heavy metals, nitrates, E coli, sewerage, and bacteria, with the mission of restoring New Zealand's waterways to their natural state- swimmable and drinkable. 
For now, Drinkable Rivers is focused on the Avon River/ Ōtākaro. Starting locally, one metre of waterways at a time, this team of water-conscious earth-respecting humans is making waves in Aotearoa. That's why, we have decided to partner with Drinkable Rivers, donating 1% of our profits each month to support their efforts. 
They have an excellent website with easy to use resources if you want to take direct action in your community and life today. We are super proud to be aligning ourselves with their work and their vision for the future of water in Aotearoa. 
"It's time for us to nurture one of our city's greatest natural assets and restore the Avon River/Ōtākaro to become the pride of Christchurch, rich in biodiversity and full of vitality once again. Over the next 7 years we will be regenerating the 14 kilometre long Avon River/Ōtākaro. We began in July of 2019 with the first 110 metres at the headwaters in Avonhead. In year two, we'll do the next 220 metres, year three the next 440 and so on until, in seven year's time, we will be fishing and swimming in the most beautiful urban river on Earth."
Drinkable Rivers Founder, Michael Mayell
https://www.drinkablerivers.nz/
Many of you don't know that my educational and professional background is based in international community development and social change. For years, I was deeply immersed in the worlds of participatory community-led social change efforts in Canada and Ghana, and these experiences have shaped so much of how I operate and view the world. 
Finding ways to not only give back, but to include our community in a collaborative process of guiding these donations lights me up to the highest degree. 
We are just one small NZ-based business, and we understand the importance of spreading the love. It's taken us 2 years of building up Flow State to be able to give back in this way without compromising product quality and customer service. We feel extremely privileged and super excited to be launching these initiatives and giving back from the overflow.
We know the future we want to be a part of, the world we want to see created around us, the culture we want to nurture for our children and grandchildren. Starting small, doing what we can, and supporting organisations and people are who dedicated to social change and sustainability is essential for this shared future. 
Thank you SO much for your support, Flow State fam! We give thanks every day for the opportunity to connect with you and to work for ourselves -sovereign and empowered in how we operate and how we extend our financial energy into the world.