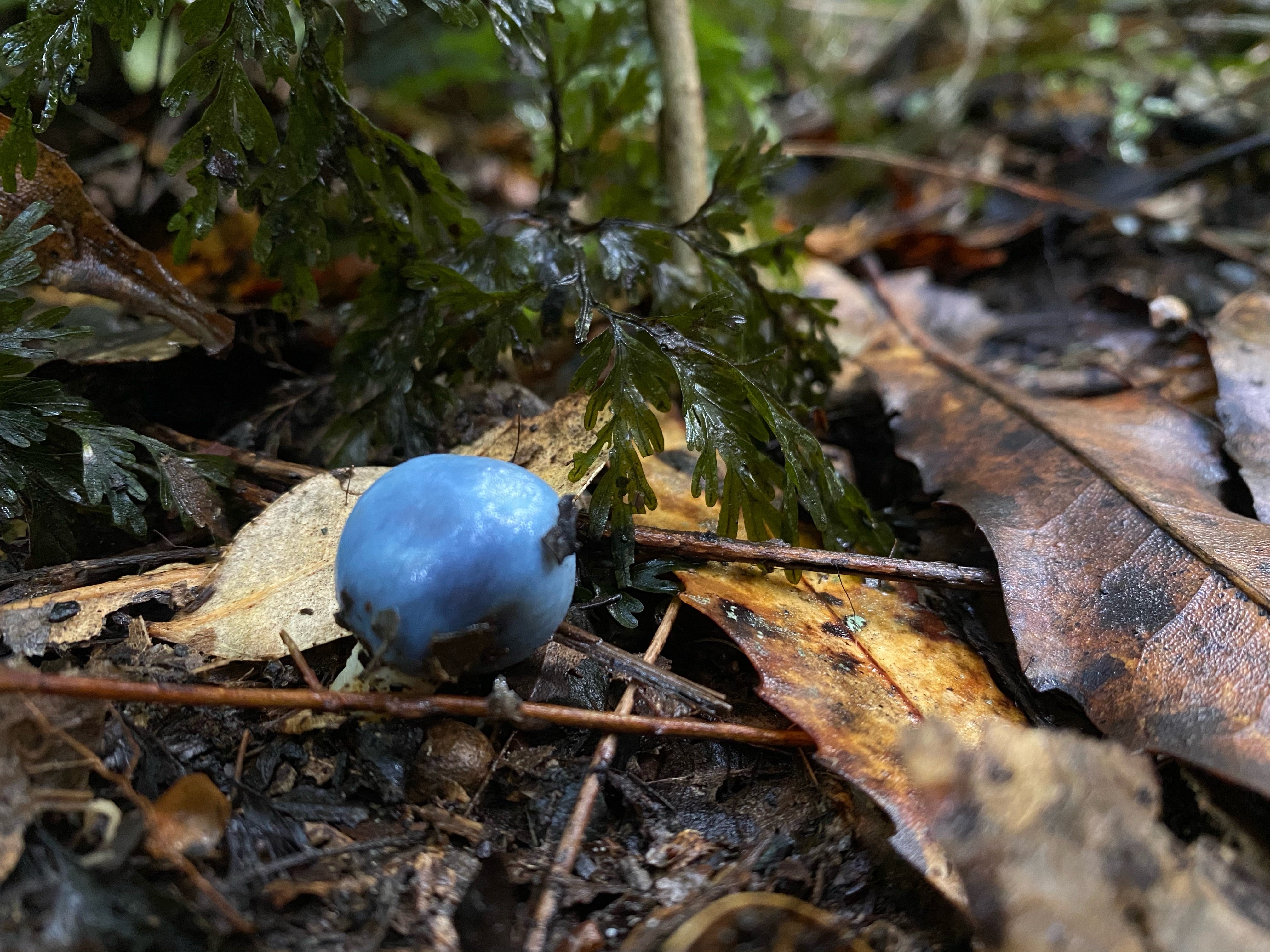 Winter foraging mission: Our five favourite finds.
I'm typing these words from the foothills of Mount Tongariro, in the central North Island. There's an eerie low cloud cover sitting just atop of the mountain. If you didn't know it was there, you really would have no idea!
Dave and I have spent the last seven nights on the road, catching up with old friends in the Bay of Plenty, and foraging forests of the Coromandel, the Kaimai ranges, Turangi, and Tongariro National Park. Today we make our way to Pirongia forest for the last leg of our winter foraging mission.
It's been a fantastic trip thus far! We had hoped the cold weather would lead us to abundant fungal foraging but may have been 4-6 weeks too late to find what we were looking for. Or perhaps it wasn't meant to be! We were especially hoping to find the infamous Werewere-kokako (Entoloma hochstetteri), featured on the NZ fifty dollar note, as well as some local Lions Mane (Hericium coralloides), also known as Pekepeke-kiore, but had no such luck. However, the trip was full of pleasant surprises, and we feel much more confident knowing when and where to go looking next season. Learning is a vital part of the journey!
Another vital part of the journey? Trusting the mycelial intelligence. Trusting that if a fungus wants to be found, it will be found. We are in constant relationship with the natural world, in fact direct extensions of nature, and while we can hope and search, we do not exist in the illusion of control or domination. Foraging for mushrooms is about building relationships, building knowledge, and mad respect for the biodiversity we are so blessed to live alongside. The journey is the destination, you know?
We thought we'd share with you our five best mushroom finds of the trip, including where we found them and a bit about each mushroom! 
1.) Spindle Pouch (Weraroa virencens)
Found: Ōtanewainuku, Lake Rotopounamu, Ngamuwahine
These pouch fungi look so alien when found on the forest floor. An oddly shaped wet blue pouch with a whitist yellow stem. I still remember my very first time finding this species. I was beyond hopeful that it was the psychoactive Psilocybe weraroa, but was grateful for the Psilly Kiwi facebook community who helped me distinguish between the two. Commonly mistaken for one another, these two native species have a few distinguished shared characteristics. We do not recommend eating them unless you are 100% sure you've got the right mushroom! If unsure, it's probably not worth the experiment.
2.) Artist's porebracket (Ganoderma applanatum)
Found: Wentworth Valley, Kaimai Ranges, Lake Rotopounamu, Tongariro National Park
I love how prolific these fungi are, as well as the beautiful range of shape, color, and size on fallen logs and dying trees. It is called the artists porebracket because the pore surface bruise and pictures can be drawn on it. These fungi are parasitic, and live for many years feeding off of decaying plant matter. The equivalent of NZ's own Ganoderma lucidum, limited research and cultural use exists to showcase parallel medicinal benefits of Ganoderma applanatum. Damn.
3.) Brown oyster (Pleurotus australis)
Found: Tongariro National Park: Waitonga Falls Waterfall Walk
Finding this jaw-dropping cluster of perfect oyster mushrooms speaks volumes to the importance of letting go. After several hours in the snow-covered forest, finding only one tiny specimen of water damaged waxgills, we had completely let go of finding fungi in the winter wonderland of Tongariro. It was 30 seconds later, on our walk back to the car that this decaying tree caught my eye. It was magnificent! These oysters were in perfect condition, some even holding clumps of ice and snow atop their cap.
4.) Green Waxgill/common name unknown -(Gliophorus viridis)
Found: Ōtanewainuku
We had just finished a big group walk up to the summit and decided to stay on and do the short loop through the forest (towards the waterfall). Dave was grabbing some footage of another specimen across the path while I waited 3 metres away taking in the forest. All of a sudden, a burst of vivid green caught my eye. This was our first time coming into contact with Gliophorus viridus, and luckily we were able to share our find with an elderly lady enjoying a solo afternoon walk. She was just as stoked as we were, and put down her walking sticks to squat down and grab a photo. Fungi are always best sharedJ
5.) Scarlet flycap (Amanita muscaria)
Found: Wentworth Valley (Coromandel)
By no means a rare species of fungi, but we were stoked to spot one lone amanita on our Wentworth Valley walk in Whangamata on the first day of our trip. We did this same walk 3 years ago in May, and the forest floor was covered in them! Interesting to see how over just a couple short months the changes in weather impacts what grows. Also, I can't help but feel a nostalgic sense of magic when I find one of these 'fairy toadstools'. They really are the quintessential mushroom depicted in the mainstream and evoke a lovely fairytale like fantasy land in my mind. Also, incase you haven't heard it, the original Joe Rogan podcast with Paul Stamets includes an informative and entertaining account of his ingestion of Amanita muscaria as a PhD student and the psychoactive compounds it contains. Click here to listen and find out why Stamet's feels this may be the most dangerous psychedelic mushroom of them all! *We do NOT advise experimenting with Amanita muscaria*
 https://www.youtube.com/watch?v=mPqWstVnRjQ
We hope you've enjoyed coming along for the winter forage mission with us! To check out our videos and see more, check out the foraging highlight reel on our Instagram page! Big thanks to all our friends who joined us for some winter foraging! We love spending time in the forest with people we love and sharing our passion for fungi!
Rach + Dave