LION'S MANE CAPSULES
clarity | mood | focus
or make 4 interest-free payments of $13.75 NZD fortnightly with
More info
COGNITION | FOCUS | CLARITY
Flow State Lion's Mane (Hericium erinaceus) mushroom extract is formulated to provide you with healthy brain support day in and day out. This white, globe-shaped fungi with long shaggy spines is popular with biohackers worldwide as it may support mental clarity, and is also added to restaurant menus by the worlds' top chefs. Lions Mane has burst back into the mainstream!
Lion's mane grows wild on deciduous trees and is now cultivated on sawdust substrates. Flow State only uses the fruited body of the mushroom - not mycelium on grain (MOG). These natural substrates contain precursors that support the production of important functional compounds such as beta-d-glucans.
Highlights:
Supports brain function
Supports nerve growth factor
Supports digestion
Supports stress and mood management
Third party tested in New Zealand
Each serve (two capsules) contains 1000mg of Lions Mane extract (Hericium erinaceus) and 10mg piperine. No fillers or flowing agents. 
Beta-D-Glucans >30%

Starch <5%

Dual extraction (organic alcohol and hot water extraction methods).

Veggie capsules suitable for vegans. 

Third party tested in New Zealand

 

for pesticide residue, heavy metal analysis, microbial analysis, and active compounds (Massey University and Hill Laboratories). 
Flow State's Lion's Mane is third party tested here in New Zealand (Hill Laboratories and Massey University) for heavy metals, pesticide residue, microbials, and also active compounds (beta-d-glucans) to ensure a high quality standard.
Put on your thinking cap, with Flow State Lion's Mane!
When to take:
Morning / afternoon.
Caution and consideration:
Despite mushrooms being natural, they are considered potent in Traditional Chinese Medicine. It is important that you consult a health professional before taking this supplement if you have a health condition, are taking prescription medication, are pregnant, or nursing. Mushroom extracts can potentially interact with medications prescribed to suppress the immune system and regulate blood clotting.
View More

At Flow State, we take great care to ensure you get 100 percent natural, 100 percent authentic, and completely safe medicinal mushroom products. As a result, the Lion's Mane capsules that we sell in NZ go through a strict production process to ensure you get the best quality product on the market. When you have the best quality product, you will get the best nutritional and medicinal results.

The first part of the process is sourcing the best mushrooms. All the Lions Mane mushroom products that we offer for sale in NZ, including our capsules, are grown in China's Zhejiang Province. Lions Mane mushrooms are native to this region in China. The mushrooms that we use are certified organic.

The hot water and alcohol extraction parts of the process are completed by a specialist Canadian supplier. We have personally vetted this process, and we have verified the quality control procedures to ensure the Lions Mane extracts produced are free from agricultural chemicals, heavy metals, and other contaminants.

We extract the goodness from 10 kilograms of dried mushrooms to produce one kilogram of Lions Mane extract. Each batch of this extracted powder is then tested for potency levels and safety at independent laboratories here in New Zealand (Hill Laboratories and Massey University). 

The Flow On Effect
Help us empower Aotearoa, one non-profit organisation at a time. Join The Flow On Effect Initiative and help us create positive social change in our communities. Visit Giving Back for more information and to nominate your favourite non-profit today.
Customer Reviews
Write a Review
Ask a Question
03/17/2023
Dane F.

New Zealand
Super clear and focused. Loving the mushrooms
03/16/2023
Rachel T.

New Zealand
Mind blowing or rather clearing !
I have been taking flow state Lions mane capsules for a year now, I have also tried the powder and tincture( very yummy beautiful packaging) but prefer the capsules. I have to say at 45 years old and post head surgery , along with general life trauma ( Covid, family deaths , raising children ) I felt scared about my cognitive abilities fading from stress, I was suffering from depression, brain fog and low energy… lions mane has been a major game changer… much more energy, focus and improved recall. I have recently started the Turkey Tail, I did notice that I was the fastest to recover ( last to contract it ) from a recent nasty cold that hit our household. And was the only one not to develop a chest infection. I have just received my pm blend and very excited to see how this goes also … as a women experiencing peri menopause I feel these shrooms are saving my sanity ! Love buying from such a gorgeous company . Packaging is always beautiful, and fast delivery love the stickers ! I'm going on and and on, but I love flow state !!!!!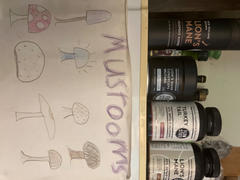 03/15/2023
Greg

New Zealand
Great product and service
Really prompt delivery time and the product feels great to take. Highly recommend.
03/14/2023
Dickos

New Zealand
Ka rawe!
I'm sure these help me in various ways... They are easy to take, well packaged and I find I have better mental endurance and recovery from intense periods of work and exertion when I take them.
03/12/2023
Jan G.

New Zealand
Lions Mane
Our daughter has recommended them for me , to keep me sharp and alert going into my Sixties